Highlights of accomplishments by Southern HS Band Students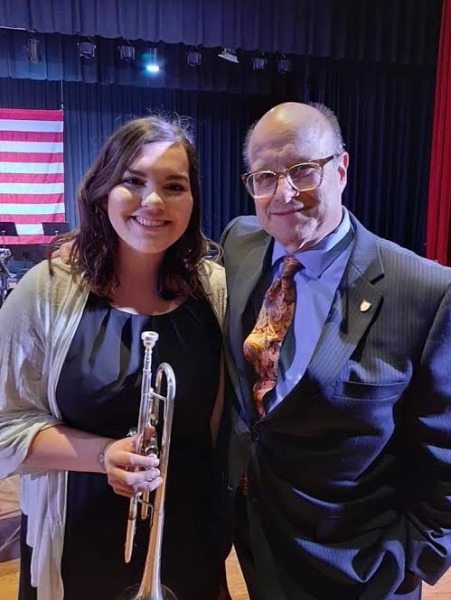 Second-quarter is a busy time in the band department. Here are a couple of highlights of accomplishments by Southern HS Band Students.
On November 9th, KateLynn Lovell, a senior in HS band, participated in the Doane University Honor Band. She has participated in this event for three years in a row. In the past two years, she has auditioned for the most experienced band and she earned a spot both times. Students from all over Nebraska and from all sizes of schools attend this event. In one short day they rehearsed and performed a great concert. We are proud of KateLynn for representing Southern and proud of her musical accomplishment.
At the end of October, we found out which band members will be playing in the Pioneer Conference Honor Band. This honor band involves schools that are on the west side of our conference. They are Friend, Diller-Odell, Lewiston, Pawnee City, Tri County, and Sterling. The honor band will be hosted by Diller-Odell on January 27th. There will be a concert at the Diller Odell HS gym at 7pm. We hope we see many Southern parents and patrons there, supporting our students. Admission is free.
Students in the band from Southern are:
KateLynn Lovell, 1st chair trumpet, 1st part
Kale Maguire, 2nd part trumpet
Izeah Human, 3rd part trumpet
Aryel Lane, bass clarinet
Lauren Trauernicht, 1st chair trombone, 1st part
Rayna Shaw, 1st chair flute/piccolo, 1st part
Karley Lauby, 1st part flute
Kambree Singleton, 1st chair clarinet, 1st part
Jayden Harding, 1st part alto sax
Natalie Trauernicht, bari sax
Congratulations to KateLynn Lovell, Lauren Trauernicht, Rayna Shaw, and Kambree Singleton for being the leaders in their instrument sections! It takes a lot of self-confidence, plus years of learning their instruments at an advanced level, to be capable of this responsibility.