Crack the Code!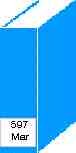 The code tells us how to find books on the shelves. It is located on the spine of each book, close to the bottom.
The code has two parts:
1. Book Type:
E-Easy Reader or Picture Books
FIC-Fiction (stories or Novels)
Numbers-Nonfiction Books
Nonfiction Categories:
000's General, Encyclopedias, Almanacs, etc.
100's Philosophy and Psychology
200's Religion
300's Social Sciences
400's Language
500's Natural Sciences and Mathematics
600's Technology (Applied Sciences)
700's The Arts
800's Literature and Rhetoric
900's Geography and History
92 Biography
2. Author''s Last Name:
Books are arranged (within each type) in alphabetical order by the author's last name. To save space, only the first three letters of the name are used.